5 Mintues for Mom
is running a Mother's Day photo contest. The photo can be alone, or with an essay telling the story behind it, or how the picture reminds you of motherhood. I've decided to enter this one. I know I've posted this before, but I'm doing it again! LOL I think this is what ever mother does every day, but being a mother of a child with a disability, I think we tend to do it with slightly a little more prayer behind it......................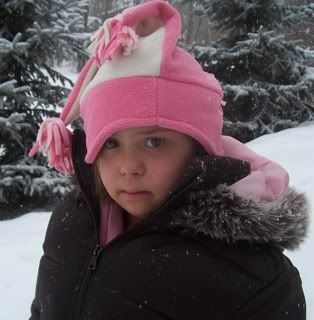 It's a rare morning when I'm up before Angela. She usually beats the sun and the roosters. Today was one of those rare mornings, but I didn't beat her by much...minutes at most. All was quiet in the house as I lay in bed enveloped in my cocoon of blankets, and the giant fluff ball next to me that was Zurri.
And then I heard it. The smallest voice, rehearsing her day, naming all her friends. I got up and stood quietly, motionless, outside her bedroom door. I couldn't see her, so I knew her head was under the blankets. In her quiet croaky morning voice she chanted, "All my friends. Yep, all my friends be there. A party for me. Drew, Monica, Daddy, Desi, Grandma Spring, Mom, Dean, Noah, Tyler, Bryon, Mrs. Hubbard. Yep...all there...for me...my party...It's a fun time my party. Should I wear a dress? No...Should I wear a fancy shoes? No...Stripes. Yep, that's right. I'll wear my stripes. My Florida stripes....my party...all my special people will come."
She got herself up and dressed, then came to find me for some breakfast. "Mom? What I wearing to my party?"
As I envisioned the mountain of striped shirts in her dresser, I answered "I don't know Angela. I hadn't really thought about it. But, since stripes are your favorite I bet that would be a good choice, and certainly one we have many options for."
Time to get dressed for the bus. We're having frigid temperatures here in MN, so every possible piece of outdoor clothing is required. She struggled with her snow pants a bit, the ones that are threatening to fall apart before the end of winter when you can't find them in the stores anymore. She pulled on her boots, then her jacket. She's still not able to zip, so I bent down to help with that. I pulled up the zipper, then tied her scarf around her face. She pulled on her mittens as I slipped her "Cars" backpack over her shoulders. (she won't have anything to do with girly backpacks, no she wanted Spiderman or Cars!)
I opened the door to send the pink puffball out into the biting wind, but at the last second she turned, "You forgot my kiss mom!"and turned to face me with an exaggerated pucker, complete with crusted toothpaste on the corners of her mouth.
As I watched her waddle down our long, steep and icy driveway it occurred to me I wasn't just dressing her for the weather. I was dressing her to protect her against the elements of the world. I did it with all my kids, just as all parents do. But with Angela, there are some things in the world that she's a bit more vulnerable to. So I prepare her for them as best I can, giving her the protective layers to shield her from the bitter cold that the world can sometimes dish out to kids like her. Those who are different from everyone else, who struggle to learn what might come easy to most. I have spent 11 1/2 years praying over her, that the Lord will show her the right way, to the parts of the world that will welcome her, and love her for who she is.
She stands there in the wind, independent of me, well out of my protective reach, singing the songs of girlhood, ready to jump into the world with both feet. Her spirit screams "I'm READY! I can do it!"