Next week is my birthday. I'm 12 years old! I'm so excited! I'm getting a new bike. My bike is red and black. My guy Bruce is making it just right for me. I had to wait a few days to get it. Today I got my new bike.
When we got there, Bruce was still working on my bike. Mom said this is called "tweaking". That is a funny word! I was very boring in that store, so I tried on different helmets. This is the faces guys have in the helmets.
Bruce was STILL working.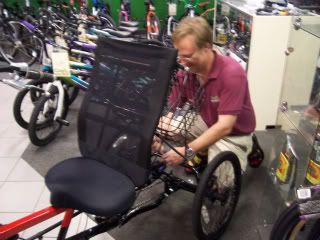 We went next door to have a shake. Mom said this is called killing time.
When we came back Bruce made the handle bars just right for me. These are MY handlebars! I have brakes too. One...two...three! On the back, that is mom's brake. That is called a control freak.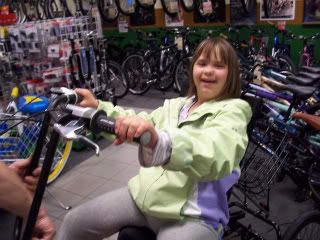 We went to the church. There is lots of room there so I won't crash. Hurry up and get my bike out of the truck!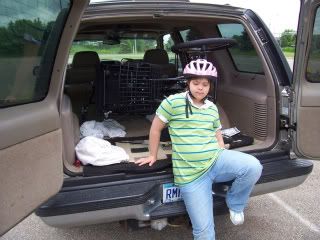 I have to push my feet all the way around to make the bike go. Not backwards. If backwards, that's wrong. Try again. This is a movie of me. This is my very first time on my bike.
I can go fast on the hill. I can use my brakes. Don't turn too fast. If turn too fast, you fall. My stripes are all wet! I was mad that my stripes are wet. Now I have to find clean stripes.
I hurt my elbow, but Mom didn't tell me it was bleeding. Mom said get back on the horse. It's not a horse Mom. It's my bike. I rode some more.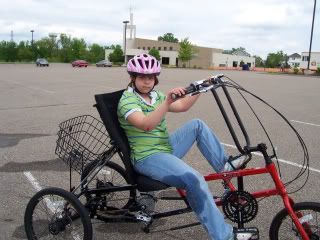 Whew! I'm tired! We went home, and I made a discovery. It's called blood! It was on my elbow and my knee. I don't like blood. Now I have a tear on my cheek.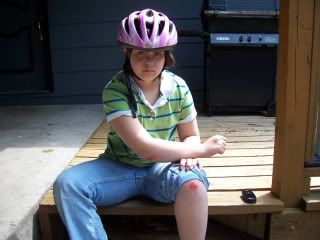 I love my new bike! Tomorrow I'll ride again. Mom can jog.