Two years ago today I was in the middle of a visit with Axel's foster home. It was my second visit. Here is what I wrote that day:
This morning my facilitator and I walked around the city center for quite some time. I have no clue why I didn't bring my camera. It's a darling area of town! Many many shops, and an area of "no traffic zone" which is kind of like the Nicollet Mall area for those from the Twin Cities.
When we were done, it was time to go see Axel. I put some different toys in my bag for today, trying to keep things interesting you know! The first toy I brought out was a matchbox motorcycle. Axel and I played with that together with yesterday's cars.

Then his foster mother brought out some pictures from his 9th birthday a year ago. As she did so, I realized just how perfect my gift for them was! They do not have a camera of their own, and the few pictures they have are cherished! The pictures she showed me were the same ones she showed me back in April. There were only a couple of new ones. The gift I got for them was a new digital camera, along with a small tripod, case, and extra memory card. Axel's foster mother was THRILLED! I told her I knew they would want to take pictures of him before he leaves. And, while on our walk earlier I'd spotted a place where they can bring the memory card to have prints made.
Next I brought out the talking photo album. Axel was delighted with it, and his social worker and case manager were intrigued by it! My facilitator, after seeing him play with the iPad yesterday, and this photo album today, said, "You have the most interesting gadgets for him. I love it!"
I saved the toy I somehow knew would be is favorite. I'll be keeping this set aside for moments of desperation in airports, etc! Of course, the toy found in the dollar bin at Walmart is the favorite, right?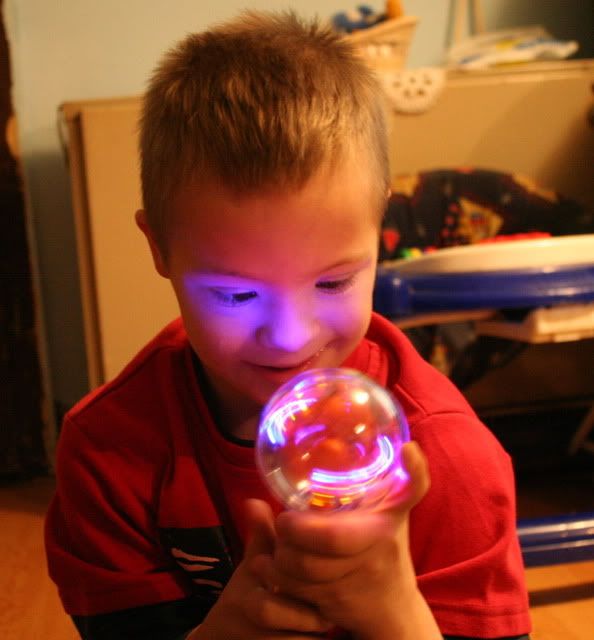 He played with this for quite some time. (I'll have to find batteries before we get on that plane! LOL) and showed everyone. In this picture he's sitting with his social workers, and suddenly looked over at his foster mother. I am oblivious, because they're speaking in another language. It wasn't until later I understood the significance of this picture. Someone in the room has just started talking about Axel going home with me.
Still unknown to me what the topic of conversation is, Axel moved to the lap of his foster mother. When I saw her start to tear up, I knew without anyone having to tell me, they were discussing Axel leaving. It is clear that his foster parents care for him very much, and will be sad to let him go.
Just then, I am asked, "Do you think you will be ok with taking him tomorrow?"
Tomorrow! Tomorrow I will take custody of Axel! Just two visits and I am his mother. Yes, I am ready to take him tomorrow, but is his foster mother ready? Is Axel ready? There is a quick conversation about weather or not I need any clothes for him (I have everything he needs, just need to make sure it all fits, but I'm confident I was at least very close in sizing!) I said no, I think I have everything, when I saw the foster mother's face look disappointed. "Unless he has something, like a favorite shirt? I bet he would like if you send that!" I said.

Please pray for me tonight when you go to bed. While you are dreaming of sugar plums, I will be trying to hold myself together so I do not turn into a puddle of tears! Axel is very sensitive to the emotions of others, and it will not be good for him to see both his foster mother and I crying! Oh Lord, please PLEASE give me more strength than you ever have before!!! I thought adopting was hard, but taking Axel away from the people he clearly loves is going to be the most difficult step!!!

Although I will take custody of Axel tomorrow, there is much to be done. I will still be here in this city until approximately Wednesday or Thursday of next week.