14 years ago on June 6, at 11:06 a.m., the operating room was silent, except for the sound of a helicopter landing on the hospital roof. While the doctor's hands closed my open belly, hushed whispers from the doctors and nurses could be heard from the corner of the room. Finally, from out of my view, the pediatrician said, "She's starting to get pink now. Lets get her ready to fly."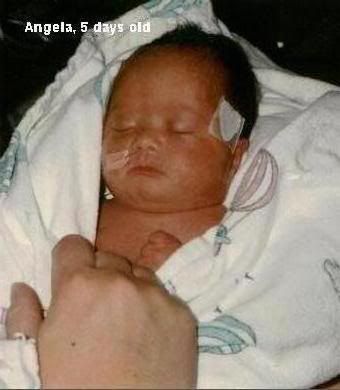 That first year was a scary, yet amazing year. In those first days we were told you were different from us, that if you survived there were things you would never be able to do. But we held you, we loved you, and we promised you the world, if only you'd hang on a little longer. You were beautiful! Your big dark eyes studied everything, and though they told us you'd likely never be able to communicate, you produced your first sign, "eat", followed a few days later by, "more", I should have known right then what was ahead! LOL You got your first hearing aids and learned the importance of sound. Before we knew it, your first birthday was was here, and for the first time I found myself thinking of the future. There were things I wanted to know! I wanted to know what you would be like at 3, at 6, 10....and at 13.
Your second year came with a few surprise surgeries, and the many hospitalizations to go with them. The feeding tube that went in, then came out, then went in again. They told us you might never walk. Too bad they didn't get to see all of us sitting in a circle in the living room cheering as you walked back and forth to each of us. They didn't get to see the pride in your eyes, or in ours. They didn't get to see my tears of joy.
Your third year brought a day I never thought I'd see. You started preschool! I cried that first time I put your tiny 20 pound body onto that HUGE bus! You were a signing maniac, and could say anything you wanted to say with signs. You started to read, and to run. You even started to eat and drink by mouth again. You were beautiful, with hair so long you could sit on it, and eyes that twinkled with mischief. You amazed everyone; teachers, doctors, but mostly us.
Your fourth year. You learned to feed the chickens and collect their eggs. You learned to drive your Barbie jeep all over the farm, and where the mother cats hid their new kittens. You taught your teachers to think outside the box that is Down syndrome, and that they didn't have to do things the same way they have for the past 10 years. You were different! Your diagnosis didn't mean the special ed. setting was the right one, so you went on to teach your regular ed. preschool teacher that "different" can be amazing!
Your fifth year brought Kindergarten and new friends. And even though it was bigger than you, you learned to carry your lunch tray. You stopped signing for the most part, and talked all the time! If only we could understand you. With a lot of changes in our family that year, you still continued to make great progress, more than anyone had ever hoped for.
Your 6th year brought 1st grade, reading, writing and math. You were the tiniest first grader ever! You loved going to school with your friends! Your speech took off and we were understanding you more and more. You were a shining star.
Your 7th year brought two moves, and it brought Dean. It also brought a long winter in the hospital, and missing all of 2nd grade. You loved your dogs, and your bedroom, or going anywhere with Dean. But mostly you loved music!
Your 8th and 9th year were unremarkable as far as medical issues were concerned. You continued to progress and flourish in school, which you loved!
And here we are. You're 14 years old now. I can still smell the baby you. I can still feel your fuzzy hair. I can still feel the touch of your chubby little hands. Today I looked at the creases on your palms, and remembered my fascination with them when you were a baby. Those creases that told us the truth of your diagnosis. But I also remember how you proved everyone wrong. That Down syndrome wasn't the curse they wanted us to believe. Down syndrome was our blessing. I remember wanting to know what you would be like at 3, 6, 10...and 14. If only all new parents who've been told their baby has Down syndrome could see ahead. If only they could see everything would be o.k. That there is life after diagnosis. I wish that all parents could have a child just like you Angela...they would be so blessed.