I would like to introduce you to
Parker Hodson.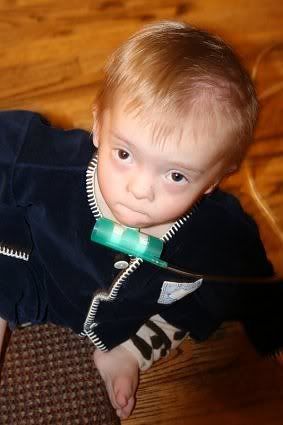 Please, I beg you, to go read his story. Parker has the most extreme health issues, and health insurance isn't covering the cost of his care. He's on several very expensive medications and uses a lot of medical supplies. (read his mom's blog post from
today!
) But his family continues to pay, and continues to sink further and further into debt as they continue to pay bits here and there on his medical bills.
A group of bloggers has set up a fundraiser called
Pages4Parker
to help raise funds for this family. It's simple...put together some scrapbook pages that someone would want to buy, and send them to the address below. But other crafters have jumped on the wagon and asked if they could send other stuff as well. YOU BET!!!! All items will then be listed on ebay for a
virtual craft sale!
All proceeds go into an account for Parker to be used for his medical care.
Pages and craft items can be sent to this address. If you're not crafty, but would like to make a donation, you can do so through his
paypal account here.
Parker Hodson
10865 North 6000 West
Highland, Utah
84003