Knock Knock Knock....go to your door and open it. As you do, imagine being greeted by this darling face.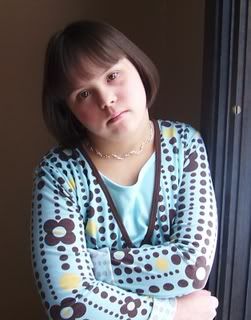 You say, "May I help you little girl?"
She says, "I'm not little! I'm almost 12!"
You say, "Ok almost 12 year old...what can I do for you? And I don't want Girl Scout cookies, I already have a freezer full"
She says, "Oh...ok...This is way better! Do you see me? Do you see that I have Down Syndrome?"
You say, "Really? I hadn't noticed."
She says, "I do! There are alot of people in the world just like me, and there are more coming. Maybe your own baby, maybe a niece or nephew you don't know about yet. Maybe your neighbor? Maybe next week you'll hold your new grandchild who is just like me. They're coming. Can you help them? Will you help them? Please...go to this website to help them. My mom wrote something there.
Of course, you will go there, to read what this girl's crazy mother has to say!